Hooper Safe Haven by Rachel Skatvold
More about Hooper Safe Haven
Harbors should be safe havens, but what if you're harboring secrets?
When Alicia Roberts accepts a job with mobile veterinarian, Kendall Mulligan, she hopes the Independence Islands will give her a safe place to start over. And as much as she appreciates the Mulligan girls' offer to stay with them while she gets settled, Alicia knows she needs her own place. ASAP.
Hooper Ear Cove Apartments on Hooper Island offers a beautiful ocean view as well as one of the landlord's hunky son—all at an affordable price. Just what she needs to start a new life. Isn't it?
When life knocked Jace Young in the head with a literal curveball that ruined his major league chances, he was forced to return to Hooper Island and a job as the maintenance guy at his father's apartment complex. On the side, he leads the contemporary song service at church as his heart heals.
When Alicia moves to Hooper Island, Jace is drawn in by her sweet personality. However, something hides deep beneath the surface, and Alicia resists any discussion of God. What will it take to convince her to anchor her heart to God and to confide the secrets she harbors?
Hooper Safe Haven continues the Hooper Island stories of the Independence Islands Series featuring five islands, six authors, and a boatload of happily-ever-afters.
The Independence Islands Series: beach reads aren't just for summer anymore.
Grab your copy HERE.
Party Time!
For Hooper Safe Haven we were asked to pick a pair of shoes that matches our personality. Oh boy. My sister would love this one. She's my fashion help and who I always go to for shoe advice. She might also have almost every color of Chuck Taylors.
For me though, it's all about the boots. Short boots. Tall boots. Boots with buckles. I want them all.
But my absolute favorite, the pair I grab more than most, is my cowboy boots.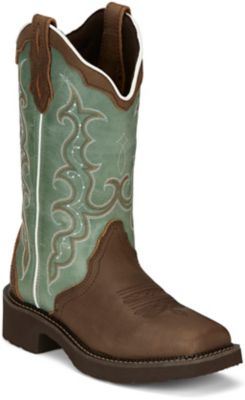 How do these boots match my personality? First off, they're durable. I can wear these boots anywhere and not have to worry whether they'll survive. Horses have stepped on them too many times to count, and they're still going strong. I can walk through mud and muck and though they come out stinking to high heaven, I give them a quick wash and they're ready to go again. These two things are important to me and relate to my personality. I'm not afraid to get dirty. I'm not afraid to walk down the hard paths God puts in front of me. I always say I was raised to be tough, and that's true. I don't seek out the hard parts of life, but I can stand my ground when they show up. I'm not afraid to dig my heels in when times call for it.
And last of all, I love the pop of color, because life isn't always drab and it isn't always hard. There are beautiful moments along the way to remind us why we keep putting one boot in front of the other.
Enter HERE for your chance to win a $5 Amazon gift card and a copy of the book
Join the other Independence Islands authors on their posting day for more giveaways and more fun stories.
Rachel (October 26)
Tabitha (October 27) (That's me!)
Carolyn (October 28)
Chautona (October 29)
Melissa (October 30)
Kari (October 31)
Sandy (November 1)